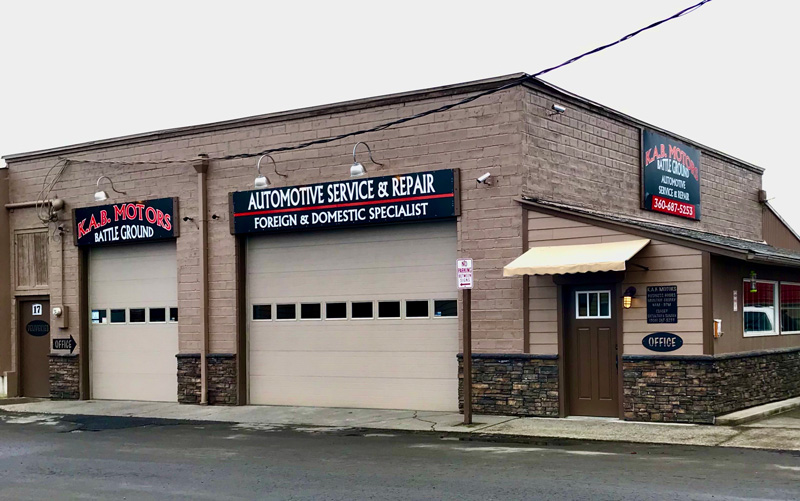 Brush Prairie is a census-designated place in Clark County. It is a small, rural town.
Your Reliable Local Auto Repair Shop
Most Brush Prairie residents rely on their cars, trucks, and SUVs to get to school, work, and a multitude of other places. When their cars need maintenance or repairs, they come to K.A.B. Motors in Battle Ground. To get to our shop from Brush Prairie, head north on NE 154th Street toward NE 153rd Street. Turn left onto NE 153rd Street, then turn right onto NE Caples Road/Old State Highway 503. Turn right onto NE 159th Street, then turn left onto NE 142nd Avenue. Continue onto S Grace Avenue, then turn left onto SE 1st Street. Turn right onto SE 4th Avenue/S Dogwood Avenue, and our shop will be on the right at 17 SE 4th Avenue.
Our technicians have decades of combined experience and are experts in all things auto repair. Here are some reasons why you should choose K.A.B. Motors in Brush Prairie:
We are a third-generation family-owned and operated repair facility with over 60 years of automotive experience.
Our technicians collectively have over 30 ASE Certifications and stay current with training courses at a minimum of 20 hours a year per technician.
We offer a 3-year/36,000-mile warranty on most of our services and repairs.
We offer a pre-purchase inspection before you buy a used vehicle to ensure everything is in working order.
If you are a Brush Prairie resident, do not hesitate to schedule an appointment with K.A.B. Motors in Battle Ground today. You can do so online or give us a call at 360-687-5253.